Remove Ads and Unlock Premium Subscription
Upgrade to our premium package for only $10 and transform your test preparation journey with these exclusive benefits:
1. 🌟Ad-Free Experience: Enjoy uninterrupted learning without any ads. Focus on your studies without distractions – for life!
2. 🌟Exclusive Access to Community Support: Join our dedicated Telegram or WhatsApp group for premium members. Get your queries answered, share insights, and connect with fellow aspirants.
3. 🌟Daily Interview Practice: Perfect your interview skills with daily practice sessions. Be prepared and confident for the actual citizenship interview.
4. 🌟Enhanced Daily Quizzes: Test your knowledge and track your progress every day with specially curated quiz sets.
5. 🌟Innovative 3D Flip Book: Dive into an immersive learning experience with our 3D Flip Book. Make cramming facts more interactive and effective.
6. 🌟Advanced Learning Methods: Benefit from a variety of additional learning tools designed to ensure you grasp and retain the essentials needed to pass your test.
7. 🌟Exclusive Premium Videos and Audios: Gain access to high-quality, engaging video and audio content that provides in-depth understanding and retention of key topics.
All these features for just $10! This is more than just an investment in an app; it's an investment in your future as a U.S. citizen. Upgrade now and take a giant leap towards achieving your American dream.
Eliminate Ads & Unlock Premium Content in Just 3 Easy Steps:
Step 1: Tap the three-dot menu icon at the upper-right corner and select "Settings."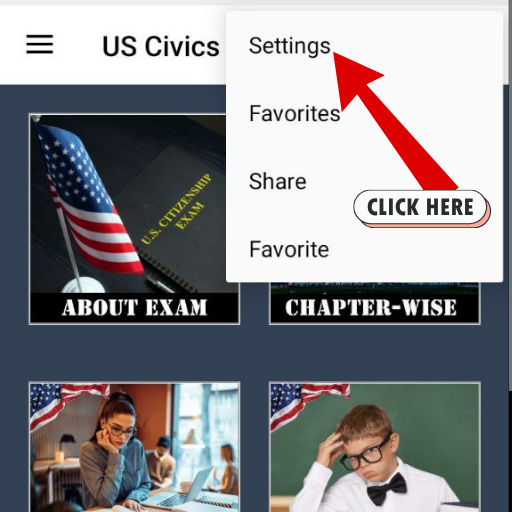 ---
Step 2: Navigate to "Remove ads and Unlock more content" and click on it.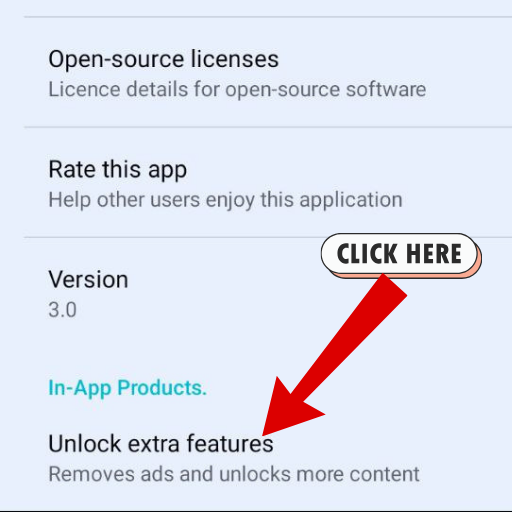 ---
Step 3: Proceed with the payment process to enjoy an ad-free experience and access premium content.
How to get Premium Content?
Confirm Your Purchase: After completing your purchase, check your email for the invoice.
Send Proof: Email a screenshot of the invoice to asinha9494@gmail.com
Join the Group: You will receive an invitation to join the "United Citizenship Tests" private group on Telegram.
Receive Content: As a group member, enjoy daily quizzes, e-books, and exam materials.
Alternative Delivery: If you're not on Telegram, we'll send the premium content links to you directly.
Please ensure your email includes your preferred method of receiving content if you're not using Telegram.